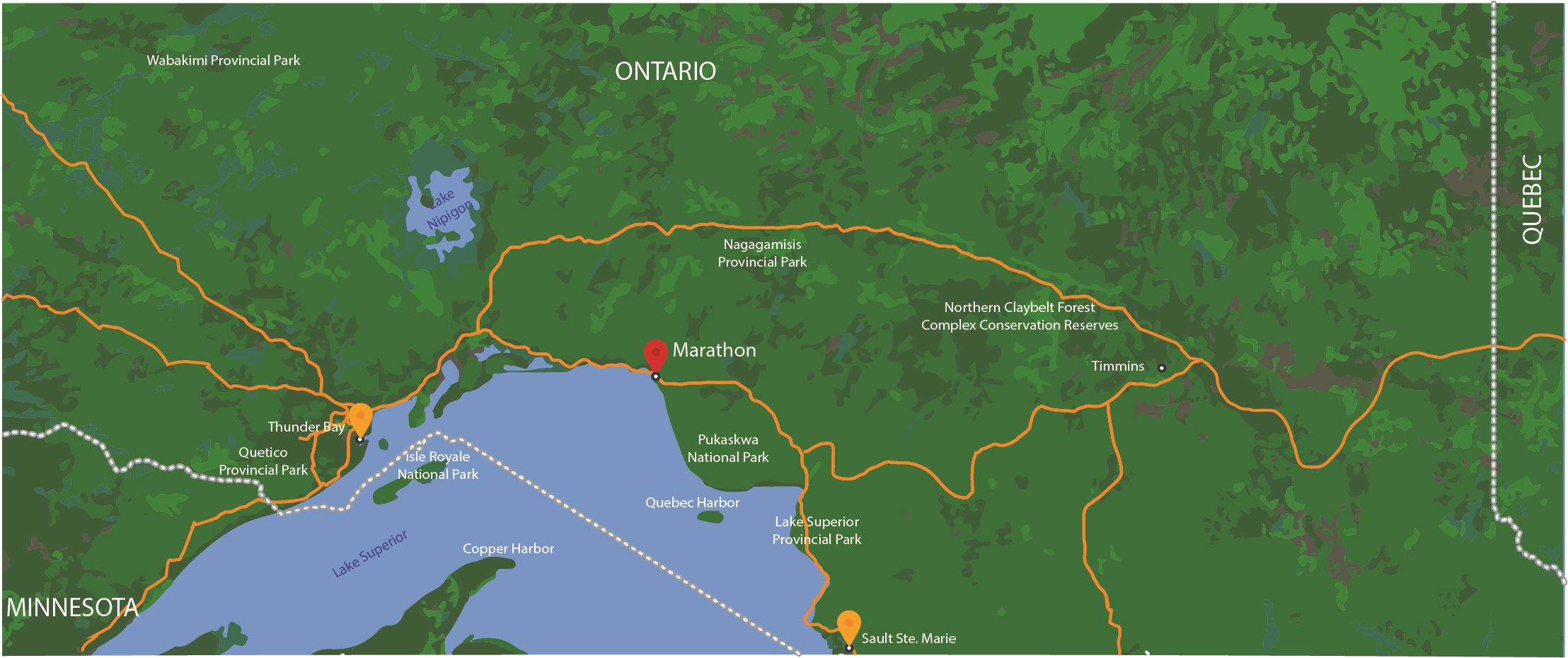 Marathon is a town with a catchment area of 3913 people located between Thunder Bay and Sault Ste. Marie in Northern Ontario. The Marathon Family Health Team is a group of anywhere from 6-9 family physicians, as well as numerous allied health professionals (RNs, RPNs, PA, NP, SW, etc.) that provide comprehensive care to Marathon and the surrounding communities of Pic Mobert First Nations and Biigtigong First Nations. There are no Royal College specialists of any kind for 300km (Thunder Bay is our closest referral centre).
Although HARMS and START-IT were founded at the MFHT, the MFHT is an independent entity and is not responsible for any of the information published here.
About Us:
Dr. Ryan Patchett-Marble, MD, CCFP(AM)
After completing his MD at the University of Toronto in 2011, Dr. Patchett-Marble completed his rural family medicine residency based out of the Northern Ontario School of Medicine (Thunder Bay). Since 2013, he has worked as a rural generalist in Marathon ON. His medical practice includes family medicine, emergency medicine, hospitalist, and addictions medicine. He is currently an assistant professor at NOSM. His interest in clinical innovation led to founding the HARMS Program and START-IT Tool.
Dr. Lily DeMiglio, MD, PhD, CCFP
Dr. Lily DeMiglio is a family physician who practices clinic, hospital and emergency medicine in Marathon, a small rural community in Northwestern Ontario. She received her medical degree from the Northern Ontario School of Medicine (NOSM) in Thunder Bay in 2016. She then completed her residency training in Family Medicine at NOSM in 2018 in her hometown of Sault Ste. Marie. She subsequently pursued a fellowship through the Supplemental Emergency Medicine Experience (SEME) Program at the University of Toronto. Dr. DeMiglio is an assistant professor at NOSM, and is currently involved in several research projects related to safe opioid prescribing, rural physician retention, and breast cancer screening. Prior to medicine, Dr. DeMiglio completed a PhD at McMaster University and was the recipient of a Canadian Institutes of Health Research (CIHR) Doctoral Research Award for her work on community-based palliative care teams.
Dayna Ingves is currently a medical student at the Northern Ontario School of Medicine (Class of 2021). Dayna has been involved in writing and designing the HARMS Program manual.
Dan Tesolin is currently a medical student at the Northern Ontario School of Medicine (Class of 2021). His role has been split between helping with i) the development of the UDT component of the HARMS Program Manual, and ii) electronic resources like www.harmsprogram.ca, START-IT, and the UrInterpret mobile app for clinical application of UDT.
Adrian Grebowicz is currently a medical student at the Northern Ontario School of Medicine (Class of 2022). He was involved with the Opioid Use Disorder chapter and the associated infographics.
Dr. Niharika Shahi is currently pursuing her residency in radiology at McMaster University. In 2017, under the guidance of Dr. Patchett-Marble, she completed a retrospective chart review analyzing the "Opioid Prescribing Program" at MFHT. The results of this early work were instrumental in formally initiating the HARMS program.
Acknowledgements
The HARMS Program and START-IT are not affiliated with any commercial enterprise. They were initially created primarily through thousands of hours of volunteer time.
In addition to the authors mentioned in the "About Us" section, the HARMS Program could not have been created without the hard work and support of the clinical and non-clinical staff at the Marathon Family Health Team.
Starting in 2019, we received support from the Northern Ontario Academic Medicine Association (NOAMA) AHSC AFP Innovation Fund Award. This funding supported the production of this Program Manual, in addition to covering expenses for conference presentations, START-IT upgrades, UrInterpret App development, and website development.